Happy to have a guest blog article from our friends at FrozenYogurtParts.com today…
"January is the best time to replace your soft-serve machine's wearable parts for the new year.  Each machine runs best with new blades, o-rings and lube.  Preventative maintenance includes not only regular cleaning of your machine, but also proper lubrication and checking for any wearable parts that may have seen better days.
Now is a good time to remove the side panels and visually inspect for leaks, debris or loose connections.  You should also take the temperature of the hopper and freezing cylinder on standby and auto modes and compare that to what the machine is saying to check that it is still calibrated correctly.  Ensuring that your machine is running properly and that it is consistently producing a quality product throughout the year will be essential to your customer loyalty and profit margin at the end of the year.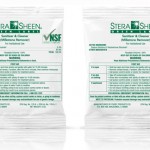 Cleaning your machine is an important aspect of maintenance to help the longevity of your machine. Get in the habit of cleaning your machine at least once a week.  This process includes running Stera Sheen sanitizer through while the machine is on wash mode, effectively killing any harmful bacteria.  If your machine goes weeks without being thoroughly and properly cleaned bad bacteria may build up and could lead to spoiled product.  The process of cleaning the machine is simple and can be done by any properly trained employee.
Lubrication is another key element to keep your machine running reliably.  The main component of the machine that requires lube is the back end of the shaft that sits deep inside the freezing cylinder.  Pull the shaft out and pull off the rubber seal that fits on the end of it.  Lubricate between the seal and the shaft.  O-rings should also be regularly lubed after each cleaning.  The best values on Stera Sheen, Petro Gel and Haynes lube are found at FrozenYogurtParts.com.  These lubes work great for frozen beverage and other types of machines as well.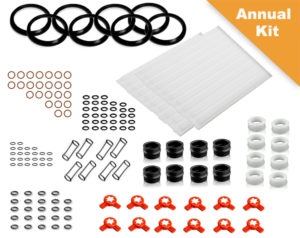 There are various important machine parts that wear down over time.  The scraper blades, for example, which attach to the shaft on the inside of the freezing cylinder wear down and don't scrape the edge of the cylinder with the exactness and precision that they once did.  This leads to the freezing of product on the inside surface of the cylinder and can lower the overall quality of your product.  These scraper blades are different with each individual machine make and model so be sure the blade is rated for your model of machine before buying replacements.  FrozenYogurtParts.com makes it easy by packaging all the wearable parts together in an easy to order kit for each machine model.  Best practice is to replace the blades every 3 months.
Replacing parts before they crack will save you from costly damage to other components of the machine and keep you from having a machine down during peak season.  Understanding your machine is important to maintaining it over time and creating your finished soft-serve or frozen yogurt masterpiece."
Contact info@FrozenYogurtParts.com to see if they can save you money on replacement parts today!  Use coupon code NANCIS5 for a first-order discount at FrozenYogurtParts.com