Training
A critical component of serving a great frozen yogurt product is being familiar with how to prepare our mixes and calibrate your soft-serve machines. You may need to calibrate your machine for each type of soft-serve mix (non-dairy, stevia sweetened, etc).
Take our online training course and become a Certified Frozen Yogurt Expert.

Click here!
How to Prepare Nanci's Dry Powder Frozen Yogurt Mix: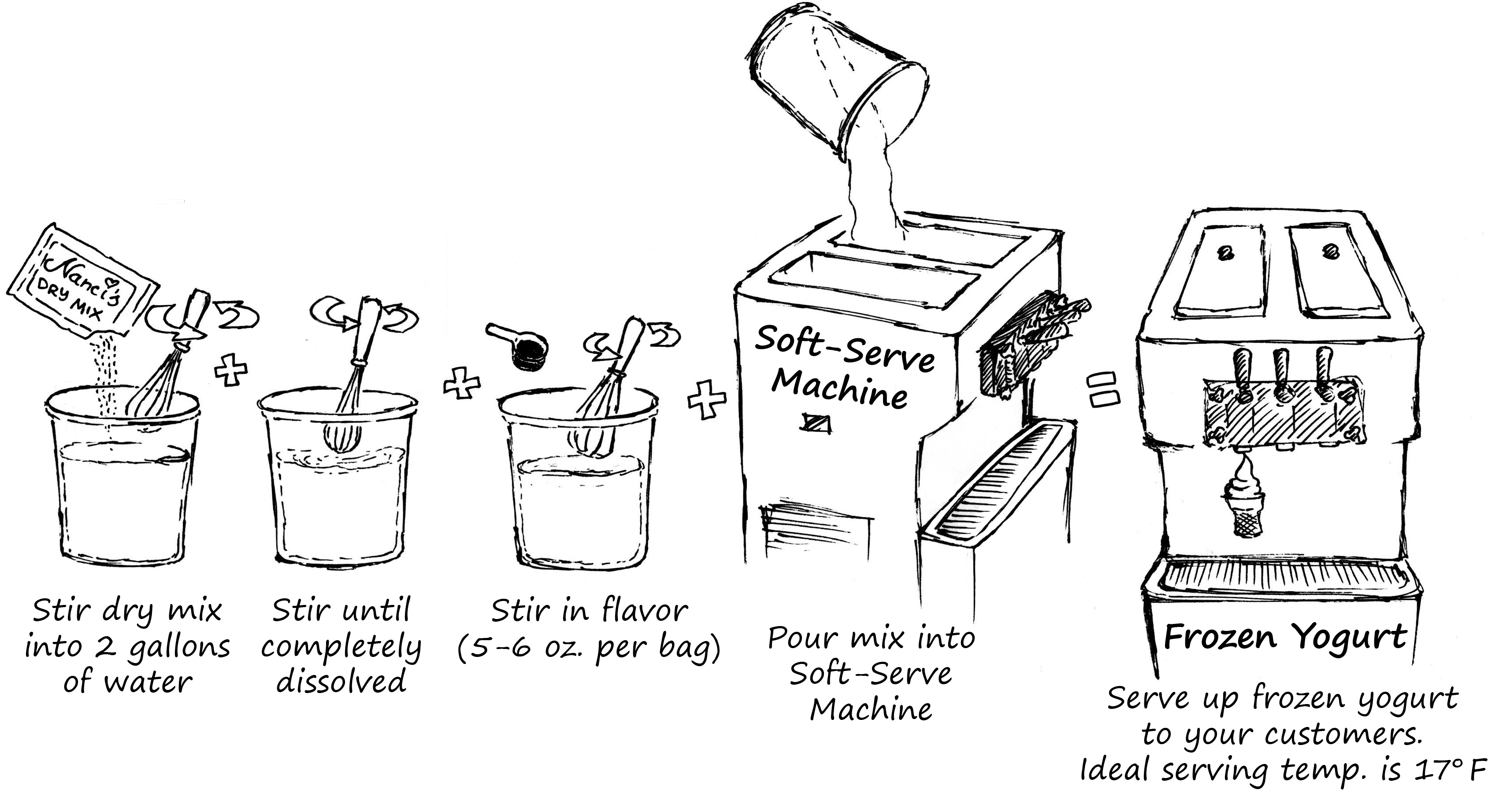 Just add water! Most other powder mixes require milk, but Nanci's mix already includes milk and yogurt powder — so it only requires water.
It only takes 3-5 minutes to have your mix ready to pour into the machine…you don't have to wait for your mix to thaw!
Be sure to pour the powder
slowly

into water while stirring with a large whisk or immersion blender. Do

NOT

pour all the powder into the bucket at once.
Important Temperatures
Hopper temperature: 36-38 degrees F
Dispensing temperature for regular mixes: 16 degrees F
Dispensing temperatures for no sugar added (stevia) mixes: 24 degrees F
Product and Equipment Training
Blog article: Nancis.com/secret-ingredient-amazing-frozen-yogurt/

For additional training or to try our mixes and flavors, you are welcome to schedule a visit to our headquarters in Phoenix, AZ. Just click on the Contact Us link below.
Trouble Shooting Tips
Mix in the hopper is foamy or has bubbles.
Some foam and bubbles is normal (especially for the Tart Mix). Be sure to stir the mix in the hopper about once an hour.
Mix in the hopper is frozen or goes bad quickly.
The temperature in the hopper is either too warm or too cold. The ideal temperature is 36-38 degree F.
Product comes out icy.
There is not air in the product. You can get air (overrun) in to the mix by using the air tube that inserts into the hopper.
Product is coming out too wet or soft.
The temperature in the freezing cylinder is not cold enough. The ideal temperature is 16 degrees F for Nanci's regular mixes and 22 degrees for no sugar added (stevia) mixes.
Mix in the hopper is too thick and won't feed into the machine.
Add an extra 1 to 2 quarts of water (use 9 to 10 quarts of water per bag instead of 8 quarts).
The machine freezes and the product won't come out.
It depends on the mix and the machine, but most likely you just need to adjust your machine. For some machines the freezing cylinder is set by temperature and for other machines it is set by viscosity (thickness). If the product won't dispense, then the temperature should be turned warmer or the viscosity set to handle a thicker mix. The machine needs to be adjusted for each type of mix you put in it (stevia sweetened, non-dairy, etc). Once the machine is adjusted for a certain type of mix, it is easiest to keep using that same mix in the same machine. If your machine is freezing turn it off and call us at 1-800-788-0808.