Frozen Yogurt Mixes
Superior Products
With more than 25 years of frozen yogurt experience, we've perfected our mixes for optimal taste, texture, and nutritional value. Each product is designed to be a stand-alone mix that you can put directly into your soft serve machine or a neutral base that you can flavor with one of our 100+ flavors. Nanci's mixes are so rich and creamy that you'll think it is soft-serve ice cream.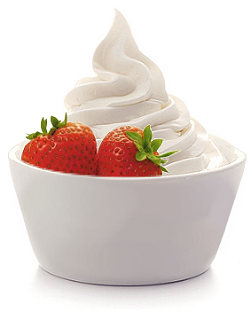 ..but with about half the calories and no fat/low fat it is a guilt free treat! Nanci's mixes are sold across the United States and in more than 25 countries.
Our dry frozen yogurt mixes are perfect for self-serve frozen yogurt stores. Nanci's products are made with the highest-quality, gluten free ingredients, including pure crystalline fructose, a superior natural sweetener found in fruit, berries, and sweet corn. Visit our Health Benefits page for more information on the benefits of pure crystalline fructose.

Easy to Make
Stir one of Nanci's dry base mixes into water.
If desired, add one of Nanci's flavor concentrates to the base mix.
Pour into a commercial soft-serve machine.
For more details visit our Training Page.
Benefits of Nanci's Dry Mix
JUST ADD WATER! Most dry mixes require milk or refrigerated yogurt – which is expensive and a hassle. Nanci's dry mix already has milk in it — just add water and you get a rich and creamy frozen yogurt product.
Excellent taste and texture – Customers could not tell which was a dry mix and which was a premixed liquid in blind taste tests.
Healthier – lower in calories, fat and sugar – than other treats! Check our Nutrition Facts page.
Real – Nanci's contains PowerPro active yogurt cultures and probiotics that store safely at room temperature making it a real frozen yogurt.
Cost efficient since there is no need for refrigerated shipping and storage.
Certified Kosher (OU) and Halal (Cresent M).
Flexible to use with artisan or custom recipes.
Easier to manage inventory since the same base can be used to make many flavors.
Safer to store and ship since it does not require refrigeration during shipping. You can be confident it has not thawed and re-frozen in transit.
Variety – 100+ flavors.
Long-shelf life.
Nanci's Frozen Yogurt and Soft-Serve Dry Base Mixes

Creamy Frozen Yogurt
Neutral Sweet base or Vanilla base or Chocolate base
Highest quality, natural ingredients
Extra smooth and creamy – tastes like soft-serve ice cream, with all the benefits of frozen yogurt
Sweetened with pure crystalline fructose
Kosher (OU-D) and Halal certified
Tart Frozen Yogurt & Greek Frozen Yogurt
Available in Plain or Premium Tart
Plain requires a fruit flavoring or a EuroYogurt flavoring since it is a neutral base
Premium Tart is our Greek Frozen Yogurt base and is also known as Original and can be served by itself with no additional flavoring
Perfect fusion of tart yogurt flavor and refreshing sweetness
Highest quality, natural ingredients
Non-fat, low calorie
Smooth and creamy meets cold and icy – the perfect combination
Sweetened with pure crystalline fructose
Kosher (OU-D) and Halal certified
Fruit Freezer Sorbet or FRUIT WHIP
Non-dairy sorbet – neutral base mixes; use with fruit flavors
Lactose free and Vegan
Cold and refreshing with a sherbet-like texture
Swirl with vanilla yogurt for the ultimate creamsicle
Highest quality, natural ingredients
Can be served using a frozen beverage machine for an excellent granita/slushy mix
Sweetened with pure crystalline fructose that enhances fruit flavors
Kosher (OU-D) and Halal certified
FRUIT WHIP is creamier and bolder and can also be used in a frozen beverage machine!
No Sugar Added Frozen Yogurt – Stevia
Vanilla or Chocolate mix
Ultra-low calorie
No sugar added
Excellent for diabetics and people sensitive to traditional sweeteners
Smooth and creamy
Sweetened with Stevia
Kosher (OU-D) and Halal certified
Vegan Non-Dairy Soft Serve – NEW
Vanilla/Neutral or Double Chocolate base mixes
100% non-dairy with no animal byproducts
100+ flavors that can be added to the base
Highest quality, natural ingredients
Smooth and creamy
Sweetened with a natural blend of pure crystalline fructose and stevia
Kosher certified
To see the labels of each base mix with mixing instructions and ingredients, visit FroCup by clicking HERE.
For information on how to prepare our mixes visit our Training page.
For information on the Health Benefits and Nutriton Facts for Nanci's Frozen Yogurt visit our Health Benefits page.
Reviews of Nanci's…
TheFrozenYogurtReview.com:
"My cup of fro-yo was delicious. The chocolate was dreamy and the vanilla was velvety! I wanted to share my experience with you guys because the one thing that left me shocked is that Nanci's frozen yogurt is a dry powder mix!! Dry powder mix? Yes it is a powder base and all you need to do is add water!!! I thought this was amazing that a powder base mix could taste so creamy, milky, and fluffy!" Click here for link to the full review
Canada:
"Nanci's product is excellent…as is there service. We get lots of compliments from our customers who go out of their way to tell us that our yogurt is superior to our competitors. I would not hesitate to recommend them."
New York:
"I have tried a few frozen yogurt products and was ready to give up! At one point I thought the trouble was in my machine! I gave Nanci's a try and I couldn't be happier! Amazing product and very helpful customer service."
Ohio:
"I had a customer that has made it a point of visiting all 27 frozen yogurt shops in Ohio with his family. After he tasted Nanci's, he said it was the best yogurt he's had out of all the shops."