Flavors
With 100+ base flavors available, you can create more than 200 unique flavor combinations. Our flavors are liquid concentrates that are stirred into the base mix before you pour it into your soft serve machine. Our flavor bottles come in 6 oz. sample, half gallon or gallon containers. One gallon of liquid flavoring will flavor more than 4 cases of dry powder mix. For ingredients or nutritional information for individual flavors, please contact us.
Nanci's Top 20 Best Sellers (scroll down for full list of flavors) 
Vanilla
Chocolate
Greek Yogurt (Premium Original Tart)
Strawberry
Mango
Coconut
Salted Caramel
Cake Batter
Cookies & Cream
Blueberry Pomegranate
Cappuccino
Pineapple
Peanut Butter
Mint
Pistachio
New York Cheesecake
Banana
Pumpkin Pie
Boysenberry
Raspberry
Flavor Sizes and Yield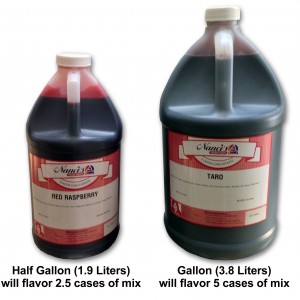 Sample sizes of flavorings are available upon request. EuroYogurt, Green Tea, Cookies & Cream flavorings are in powder form.
Full List of Flavors for Frozen Yogurt and Soft Serve
ALMOND
COTTON CANDY
PEACH (GEORGIA)
AMARETTO
CRAN RASPBERRY
PEANUT BUTTER
ANGEL FOOD CAKE
CRANBERRY
PEAR
APPLE (GREEN)
CUSTARD
PECAN PRALINE
APRICOT
DEATH BY CHOCOLATE⌃
PEPPERMINT (WHITE OR PINK)
APRICOT MANGO
DRAGON'S BLOOD (CHERRY GRAPE)
PIÑA COLADA
BANANA (TROPICAL)
DULCE DE LECHE
PINEAPPLE (HAWAIIAN)
BANANA CREAM PIE
EGG NOG
PINEAPPLE BANANA
BANANA MANGO
ESPRESSO
PINK LEMONADE
BANANA SPLIT
EUROYOGURT (POWDER)
PISTACHIO
BIRTHDAY CAKE
FIG
POMEGRANATE
BLACK CHERRY
GERMAN CHOCOLATE CAKE⌃
POMEGRANATE RASPBERRY
BLACKBERRY
GINGERBREAD
PUMPKIN PIE
BLUE RASPBERRY
GRAHAM CRACKER
RASPBERRY (RED)
BLUEBERRY
GRAPE (CONCORD)
RED VELVET CAKE⌃
BLUEBERRY POMEGRANATE
GREEN TEA (POWDER)
ROOT BEER FLOAT
BOYSENBERRY
GUAVA
RUM (JAMAICAN)
BUBBLE GUM (PINK)
HAZELNUT
SALTED CARAMEL
BUTTER BRICKLE
HONEYDEW MELON
STRAWBERRY (MOUNTAIN RIPE)
BUTTER PECAN
ICED COFFEE
STRAWBERRY BANANA
CAKE BATTER
IRISH CREAM
STRAWBERRY CHEESECAKE**
CANDY CANE
KAHLUA
STRAWBERRY COLADA
CAPPUCCINO
KIWI (GREEN)
STRAWBERRY DAIQUIRI
CARAMEL APPLE
KIWI COLADA
STRAWBERRY KIWI
CARAMEL CUSTARD
LEMON-LIME
STRAWBERRY LEMONADE
CHEESECAKE**
LEMON MIST (LEMONADE)
STRAWBERRY SHORTCAKE
CHERRY (WILD)
LIME (KEY LIME PIE)
TARO
CHERRY CHEESECAKE**
LYCHEE
TART BOOSTER (DOUBLE TART)
CHOCOLATE MALT⌃
MACAROON
TOFFEE
CINNAMON APPLE PIE
MANGO
VANILLA BEAN
CINNAMON ROLL
MANGO STRAWBERRY
VANILLA (FRENCH)
COCOA (POWDER)
MAPLE WAFFLE
VANILLA (OLD FASHIONED)
COCONUT (ISLAND)
MARSHMALLOW
WATERMELON
COCONUT CREAM PIE
MINT (CRÈME DE MENTHE)
WHITE CHOCOLATE MACADAMIA
COCONUT TARO
MOCHA⌃
WHITE CHOCOLATE MOUSSE
COFFEE
NUTTY NUT
WILD BERRY
COOKIE DOUGH
OATMEAL COOKIE (SNICKERDOODLE)
COOKIES & CREAM (POWDER)
ORANGE
**For best results if using the Vanilla base mix with Cheesecake flavor, add TART BOOSTER when mixing in the Cheesecake flavor.
⌃ Use with Chocolate Base Mix.