Mysteries of Shipping Revealed: International Orders
This Q&A is part 2 in a 2 part series.  This article pertains to shipping internationally outside of the United States. 
How are international orders packed for shipping?
Initial sample orders are packed in a single cardboard box and labeled as samples and shipped with FedEx Express International.  If you prefer to use your courier such as DHL, let us know.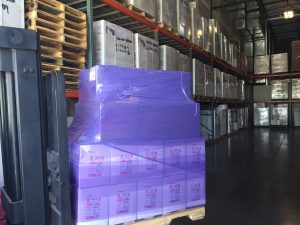 Regular orders are packed in cardboard boxes stacked on a heat treated wooden pallet and wrapped in plastic wrap.  Mixed pallets and less than full pallets are always wrapped in purple.  Dry bases are the heaviest and will be stacked on the bottom with the flavoring bottles on top.  Cups and spoons and other supplies will then be stacked on top of those base mix and flavoring boxes.  All orders are double checked through our strict quality control process so you can be confident they will arrive according to your packing list.  Note on the bill of lading at delivery if there is any damage or missing boxes.  Claims must be filed within 5 days of delivery.
Which is the most cost effective way to ship?
Ocean shipping is definitely the least expensive way to move product around the world.  Carriers charge based on weight but mostly on volume so it makes sense to maximize the space on each pallet.  We can fit 60 cases of dry mix on each pallet.  If you are also ordering flavorings, it works well to remove a few cases of dry mix so the flavorings can fit on the same pallet.  Ocean shipping costs significantly less than air shipping.  
For example, shipping for a recent order of 30 cases to South Africa cost $2700 by airplane when it would have only cost $700 by boat.  A similar order that shipped to China recently cost $1900 by air when it would have only cost $600 by boat.
What is the fastest way to get an international order?
Air shipping is definitely the fastest way to get any order.  For small sample orders, the only way to ship is by airplane.  These small orders are often necessary for the first time to take the product to customs agents in the destination country for testing and approval before a larger ocean order is place.  Shipping a 14 kg sample box to most countries costs about $200 and arrives usually in less than 7 days.
Larger orders such as a typical half (30 cases) or full pallet (60 cases) order take about 10 days by air as compared to 40 days by ocean.  Contact us for a specific quote for your country.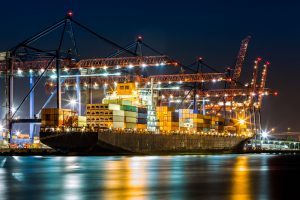 Do you ship to my address or to the port?
Door to Door means the shipment goes all the way from the factory to your doorstep.  Small packages shipped via FedEx Express International Air will ship this way and FedEx will bill the customs fees and tariffs directly to you upon delivery.  We don't ship any international pallet orders Door to Door because the customs clearance process is your responsibility and transit stops at your port for import clearance.  Door to Port means the shipment leaves our factory and arrives at the ocean port or airport and then you clear it through customs and take delivery and arrange the destination country inland transport.  Door to Port is how we arrange the majority of our international shipments.  Port to Port means we deliver the goods to your freight forwarder in the USA and they take it from there.  They might also be willing to deliver it all the way to you via Port to Door – you can negotiate that with them if you decide to set up your own shipping. 
Can I use my own ocean freight forwarder?
Yes, many of our clients actually use their own freight forwarder to arrange the ocean shipping for themselves.  In those cases, it often works best to have us deliver the order to your freight forwarder's warehouse in California or Florida.  We offer better inland USA transport rates than most freight forwarders.  They excel at offering good ocean rates but usually can't beat our inland rates.
What about customs clearance?
All orders are shipped FOB Origin which means title of ownership passes from seller to buyer when the goods leave Nanci's warehouse.  We don't guarantee customs clearance.  Even when we have shipped for years to a country, unusual or random circumstances can lead to an order getting stopped at customs if the importer doesn't have the correct import permit.  You always want to engage a good customs broker before placing your order to make sure you have all the proper permits and approvals from customs.  In addition to preparing to import food products, you'll receive an international shipping authorization from us that will require you to agree to the following:
Wudel International Shipping Terms and Authorization

As the consignee, I acknowledge that Wudel International (Nanci's Frozen Yogurt) is arranging shipping as a convenience to me.  I take full ownership of the shipment once it leaves Wudel's factory/warehouse in the U.S.A.  Wudel does not pay destination charges, duties or customs charges and does not guarantee transit times, customs clearance, or delivery of goods — such details are the sole responsibility of the consignee.  Wudel is not responsible if goods are delayed in transit or if goods are rejected by customs for any reason.  The consignee is responsible to be aware of and to adhere to all applicable customs requirements to import food and dairy products and equipment purchased from the U.S.A.
Which are some countries where the Nanci's products seem to be more easily imported?
With the right connections and permits, the products can be imported into any country.  Here is a list of recent ones that were fairly efficient:  Aruba, Bahamas, Belize, Bolivia, Cameroon, Canada, Cayman Islands, China, Curacao, Cyprus, Denmark, Dominica, Dominican Republic, Fiji, French Polynesia, Ghana, Greece, Guam, Honduras, Hong Kong, Ireland, Jamaica, Jordan, Laos, Lebanon, Maldives, Mauritius, Mexico, New Zealand, Nicaragua, Nigeria, Norway, Oman, Pakistan, South Africa, Surinam, Switzerland, Trinidad, UAE, Uganda, Venezuela, Vietnam.
Which are some countries where importing has been more difficult?
Dairy food products seem to be more closely scrutinized than non-dairy.  If you have concerns importing into these countries, you might consider trying our non-dairy lineup first.  Also, labeling is important in some countries.  Check with customs to make sure they don't require an additional label on each box in the official language of that country with our plant code.  Here are some countries that may require extra preparation on your part to comply with customs demands: India, Japan, Australia, Spain, France, Saudi Arabia, Peru, Columbia, Thailand, Sril Lanka.

Are there any plans to have Nanci's products available in my country from a distributor so I don't have to import them through customs?
We love to have product already in country for you and in some countries it may be available.  Check with us to see if there is a local contact who has product or who can broker your order for you.  We may have another client in your country already importing for their own business and willing to import your order with theirs.