Mysteries of Shipping Revealed: USA Orders
This Q&A is part 1 in a 2 part series. This article pertains to shipping within the United States. Check back later this summer for part 2 about international shipping.
Why are some of my orders delivered via FedEx Ground and others come on a pallet via semi truck?
The simple answer is we ship larger orders on a pallet and smaller orders with FedEx Ground.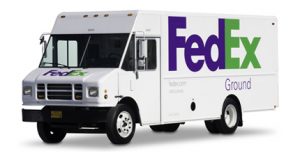 There are some advantages to receiving orders on a pallet:
1 – The boxes arrive all together
2 – There is less risk of damaged boxes
3 – Delivery appointments are an option with pallet deliveries
4 – Large orders qualify for a bulk discount (e.g. our popular Baker's Dozen Special)
What should I expect when my pallet arrives?
We send an email with the tracking information and usually an actual photo of your pallet. When your pallet arrives, it should look like the photo that was sent to you. We always wrap the LTL pallet orders in purple plastic wrap. All the truckers use clear wrap. So, if it arrives in clear wrap you know the trucker has unwrapped and rewrapped it.
There are several things to look for when accepting your pallet order:
1 – Count the boxes. In your tracking email we usually let you know how many boxes to expect. If you order the Baker's Dozen (13 cases) and no extra flavors, you will know to expect 13 boxes.
2 – Note obvious damage. Are the boxes broken or open? Is there any powder spilling out of a box? Are the boxes crushed? Any box that shows damage on the outside needs to be opened and checked on the inside. If the bags are not open and all 5 are there, then you don't need to do anything. If bags are missing or damaged, then the damage needs to be noted on the driver's copy of the bill of lading (BOL). If possible, please also take a photo of the damage, before and after opening the box. After the damage is noted, then go ahead and accept the pallet and call us to report the incident.
3 – Unpack the pallet. LTL shipments are delivered outside your building. You or your staff will need to unwrap the pallet and carry the boxes into your building. The driver is not authorized to carry boxes into your building. They must simply drop the pallet by your front or back door.
Should I accept damaged shipments?
Smaller orders ship via FedEx Ground. FedEx is among the best at what they do. We have found them to be highly reliable in getting your order to you in a timely manner. Occasionally we get a message from FedEx saying one of the packages has received some damage. In that case, we try to have them go ahead and deliver the package anyway. The intent is that at least you'll get some of the order and in case you're running low on product, better to receive something rather than nothing. In most instances of damage of dry mix, just 1 bag is leaking and the other 4 bags in the box are still fine.
When you receive the package, note the damage with the FedEx driver, take pictures, and then go ahead and accept it. Email us the photos at info@nancis.com and then give us a call and let us know how many bags were damaged and we will make arrangements for compensation with you. You can have confidence we'll do what we can to get your products to you in a safe and timely manner.
Why do some items arrive separately?
Depending on the items in your order, we may ship from several different warehouses. We'll note this on your packing list.  Also, sometimes boxes get separated at FedEx terminals.  This is normal and not a cause for concern.
How long will it take to get my order?
Delivery times are not guaranteed. We suggest storing a box of product offsite in case of an emergency. Sometimes your staff waits until you run out before they tell you they need something.
Here are the approximate delivery times depending on where you're located in the USA:
Northeast: 5 business days
Midwest: 4 business days
South: 4 business days
Northwest: 3 business days
Southwest: 2 business days
Orders submitted on FroCup.com before noon will typically ship the same business day. Orders submitted after noon will ship the next business day.