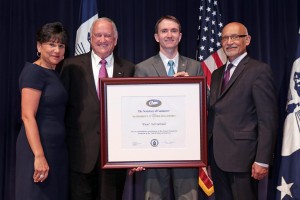 U.S. Secretary of Commerce Penny Pritzker today presented Wudel International with the President's "E" Award for Exports at a ceremony in Washington, DC. The President's "E" Award is the highest recognition any U.S. entity can receive for making a significant contribution to the expansion of U.S. exports.
"The President's 'E' Award winners are outstanding American businesses and organizations that have played a crucial role in strengthening and growing our economy through increased U.S. exports," said Secretary Pritzker. "By selling Made-in-America goods and services internationally, winners are creating jobs in Arizona and their local communities. Congratulations to Wudel International. Exports are critical to our nation's competitiveness in the global marketplace and solidify our country's economic leadership across the globe."
"Exports are an essential part of the U.S. economy and Wudel Intl. is a leader in the field, serving as a great example of success in exporting from Arizona," said Arizona Congressman Matt Salmon. "I'm proud of what they've accomplished in their business as well as the recognition they've received through this award, showcasing the growing role exports play in Arizona businesses."
Wudel Intl., based in Gilbert, Arizona, manufactures and distributes soft-serve frozen yogurt mixes and flavorings under the Nanci's Frozen Yogurt brand, as well as private label brands. Wudel Intl. exports to more than 40 countries in six continents. Countries that Wudel Intl. ships to include China, Vietnam, Denmark, Australia, and South Africa. Exports have increased significantly within the last four years as the frozen yogurt trend that started in the U.S. expands across the world.
"We are honored to receive this award and see incredible potential to grow exports even more in international markets," said John Wudel, CEO of Wudel Intl. "The focus by the U.S. government in supporting exports is a game changer for us. Improved trade agreements and expanding into new markets is a huge boost for our export business, which flows back to the U.S. economy and our local economy."
About Wudel International
With more than 25 years of frozen yogurt experience, Wudel Intl. has perfected its products for optimal taste, texture, and nutritional value. Sold under the brand Nanci's Frozen Yogurt, each product is designed to be a stand-alone mix that you can put directly into a soft serve machine or a neutral base that you can flavor with one of 100+ flavors. With convenient flexibility, Nanci's dry frozen yogurt mixes are perfect for self-serve frozen yogurt stores. Nanci's mixes are sold across the United States and in more than 40 countries across six continents.
Nanci's products are made with the highest-quality, gluten free ingredients, including pure crystalline fructose, a natural sweetener found in fruit, berries, and sweet corn. Nanci's also uses PowerPro Active Cultures, encapsulated probiotic cultures that are protected in the dry form and deliver all the health benefits you expect from frozen yogurt.
With research and development done in house, Wudel Intl. can provide custom formulas and private label mixes. Wudel Intl. is family owned and operated, and prides themselves on providing unparalleled customer service. They help with everything from product choice to business strategy. For additional information, please visit www.nancis.com.
About the President's "E" Award
In 1961, President Kennedy signed an executive order reviving the World War II "E" symbol of excellence to honor and provide recognition to America's exporters. Today, Secretary Pritzker honored 45 U.S. companies with the President's "E" Award for their outstanding work to reduce barriers to foreign markets and to open the door to more trade around the world.
U.S. exports of goods and services hit an all-time record of $2.34 trillion in 2014, accounting for 13.4 percent of U.S. GDP, compared to 7.5 percent 30 years ago. Nationally, jobs supported by exports reached an all-time high last year with more than 11.7 million jobs, up 1.8 million since 2009.
American companies are nominated for "E" Awards through the U.S. and Foreign Commercial Service office network, located within the Department of Commerce's International Trade Administration. Record years of successive export growth and an applicant's demonstration of an innovative international marketing plan that led to the increase in exports is a significant factor in selecting the overall winners.
For more information about the "E" Awards and the benefits of exporting, visit www.export.gov.
http://www.commerce.gov/news/press-releases/2015/05/us-secretary-commerce-penny-pritzker-presents-us-companies-presidents-e
http://salmon.house.gov/media-center/press-releases/rep-salmon-recognizes-president-s-east-valley-e-award-winners